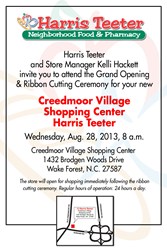 Charlotte, N.C. (PRWEB) August 14, 2013
Harris Teeter is proud to welcome shoppers to its Creedmoor Village store on Aug. 28, 2013. The company is celebrating the grand opening with a ribbon cutting ceremony at 8 a.m. as well as weekend activities to introduce community members to the H.T. Difference.
In each of its stores, including its newest store at Creedmoor Village, Harris Teeter strives to offer customers an excellent shopping experience on every visit. An excellent shopping experience starts in the store with customer service, high-quality perishables along with great variety and selection.
The Creedmoor Village Harris Teeter will be open 24 hours, and the Harris Teeter pharmacy will be open seven days per week, as well.
Store Address: Creedmoor Village Shopping Center
1432 Brodgen Woods Drive
Wake Forest, N.C. 27587