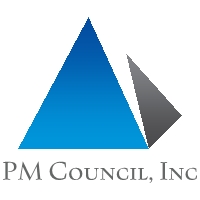 PM Council, Inc fromWake Forest, NC is pleased to announce that they are now a corporate member of the Raleigh Chamber of Commerce. The Greater Raleigh Chamber of Commerce is a business membership organization that represents the interests of the local business community for more than a century. The Chamber has over 2,500 member firms.
The Professional Development program, ProDev, was formed and designed to provide professional development that incorporates coaching, mentoring and training sessions. ProDev will enable professionals to gain insights into leadership, finance and professional communications. This program provides the tools to build skills, increase networking, and focus on career development to strengthen professional profiles and marketability.
Vickie Callair, founder and president of PM Council, Inc said, I am very excited to attend this event and have an opportunity to meet and engage people to tell our story as well as make connections with other business leaders. This will be a fun and informative event for our team and we are looking forward to it.
PM Council, Inc will have staff on site to offer 5-minute mentoring on professional advice and suggestions pertaining to professional career goals. Vickie says, We will have materials and technological tools set up so that individuals are able to view our training sessions and courses that we are offering as well. Come out and network with professionals in all majors and disciplines to have the opportunity to learn about PM Council's project management courses and training. This will be a great time to discuss career goals and targets in project management as well.
ProDev was created to provide professional development consisting of self-assessments, career research, skills lessons, specialized training, and mentoring/coaching. Self-assessments play important roles in career choices. Skills, personality, and values assist in career planning processes. Career research targets career changers as well as those just starting to explore career options. Integrated approaches to exploring careers and skill requirements are incorporated in skills lessons. Specialized training is provided within this program to ensure that individuals know their field and are well-trained in their areas of expertise. ProDev provides career coaching and mentoring for individual growth and professional maturity while being career-focused and performance oriented.
About PM Council, Inc
PM Council is an emerging firm that provides project management consulting, training and professional development to organizations and professionals. PM Council will meet your needs to help you succeed.
For more information, contact PM Council, Inc at 855-PMC-INC1 or visit the website at http://www.pmcouncil.com.